Innovative One-Page Tools To Expand Your Skills & Grow Your Business
You know the importance and benefits of planning. You'd like to be able to have time to think strategically about your business and all your future opportunities.
You realize there are numerous challenges you need to overcome. You have tough decisions to make. Too often you're caught up on the Entrepreneur Treadmill® of day-2-day activities.
You've created plans, metrics, and milestones in the past to help you achieve your goals. But all too soon, you lost focus and neglected your goals. You didn't mean to. You just got busy.
We understand. That's why we created our suite of innovative one-page tools.
Each Tool Is Only One-Page, On Purpose
We made each tool only one-page, on purpose.
We know you're already overwhelmed. A tool that's only a page is much easier to embrace. To complete. To use.
There are 12 one-page tools in the Results Driven Framework.
The tools are based on the 6 key areas that highly successful entrepreneurs use to expand their skills and grow their business. And they're based on our work with clients in over 30 industries.
They use our one-page tools to create their one-year plan, solidify their long-term vision, increase their profits, and define their uniqueness. Develop their team. Make tough decisions.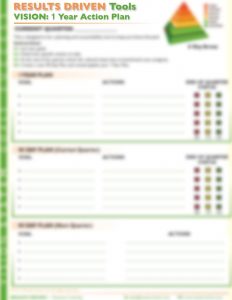 Our Clients Rave About Our One-Page Tools
They tell us time and again, how beneficial they are. Their confidence level has increased. Their focus has sharpened. Their team is now more committed.
And they're using the 12 one-page tools to get the results they deserve.
Are you ready to get off the Entrepreneur Treadmill®?