Are You Overwhelmed In Your Business?
Is it difficult to implement and execute your ideas?
Is your lack of planning causing you to be in reactive mode?
Do you struggle to capture new opportunities?
Is your lack of processes and procedures causing you aggravation?
Do you have trouble prioritizing important activities?
Are you often feeling overwhelmed?
Results Driven Works In Your Industry
Our proven business tools, insights and expertise have been helping clients – just like you, for over a decade.
Medical professionals
CPA's
Attorneys
Franchisees
Tech companies
Service-based companies
Financial Advisors
Dental Labs
Retail
Consultants
Real-estate agents
Manufacturers
Architects
Landscape Architects
Landscapers
Denturists
HVAC
E-Commerce
Social Media
Importing
Environmental
Web Development
Disaster Clean Up
Optical
Optometry
Food Service
Logistics
Listen to some of our member's share why they joined our program.
They explain how the program has helped them to significantly increase revenue, be more accountable, set goals, and create actionable plans. They say that they're more focused and efficient. They talk about their frustrations and how they're getting greater results in their small business.
.
Results Driven Program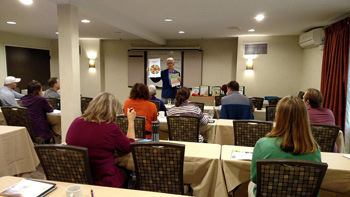 Small Business Group Workshops + One-2-One Training
You'll learn 12 proven step-by-step Success Strategies in a dynamic small group workshop. You'll create a 1 year plan and design 60 day goals and actions plan. You'll benefit from collaborative conversations and learn best practices from your fellow entrepreneurs. Between workshops, we'll work with you one-2-one.
Do you want to know how to improve your business?
The Free Biz Snapshot has helped hundreds of entrepreneurs gain unique insights into key areas of their business. Complete the questionnaire and receive your customized Biz Snapshot, which includes ideas to help you in your business. You'll also receive an option to have a complimentary consultation to learn additional creative strategies.
We've Discovered Something Powerful
Most business owners are overwhelmed because they lack defined processes, procedures and structure. Too often they're caught up on the Entrepreneur Treadmill® of day-2-day activities. They struggle because they lack focus, a defined plan and the ability to prioritize. They also know that deep down their business should be more rewarding. A lot more rewarding.
All of this frustration can be summarized into a single concept. It's because they don't know one vital number.
That's why we created our business scorecard: 'What's Your Number?'
Your 'number' is your score from 0 to 100, that helps you gauge your business performance. By discovering your 'number', you'll finally uncover why you're overwhelmed. You'll learn if your business is weak, strong, or underperforming. Few business professionals know their 'number'. Do you?
To learn your own number, request our FREE: What's Your Number?
Discover How The Results Driven Process Help You
We have a deep understanding of 'how to' make every business more successful. It's based on working with clients in over 30 industries. These companies range from simple businesses to practices that are very complex. We had a front row seat in helping these clients and capturing their best practices. We've taken all that knowledge, expertise and experience to create The Results Driven 5-Part Framework. [continue reading]
"Results Driven was exactly what I was searching for. Their mentoring, tools, and proven systems have made a significant impact on me and our business. I'm evolving from an Entrepreneur to a CEO – as they like to call it."
Results Driven Options
As a business leader you have different needs. That's why we've created three different options to help you.
You recognize that your business needs help. You understand that you don't know how to fix your business.
You're looking for a group of fellow professionals, so you can learn from each other and grow your business.
03
Franchisee / Franchisor
Results Driven's very first client was a Franchisee. She was struggling. Within 5 months, we doubled her revenue.
You're Going To Notice A Change
We call it a transformation. You'll have proven tools and insights for real results. You'll have a written, actionable plan for the vision of your business. You'll be dramatically more focused. You'll prioritize your opportunities. You'll execute your ideas instead of letting them linger. You'll no longer feel frustrated doing day-2-day activities.
How Can Our Business Training Program Help You?
Here are 5 highly effective reasons why our program works:
The program has a proven step-by-step system that works. Period.
The program design and format keeps you focused and on track.
The strategies are laser focused improving key areas of your business.
Learn best practices from members in different industries.
Experience a double digit growth in your business.